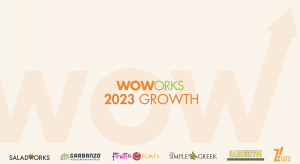 WOWorks' family of Better-For-You brands satisfies the demands of today's consumers, catching the attention of investors.
ST. PETERSBURG, FLORIDA, UNITED STATES, September 15, 2023/EINPresswire.com/ — WOWorks, the family of better-for-you restaurant brands Saladworks, Frutta Bowls, Garbanzo Mediterranean Fresh, The Simple Greek, Barberitos Southwestern Grille and Cantina, and Zoup! Eatery, is pleased to welcome several new franchisees and announce multiple store openings.
Twenty-three franchise partners have joined the system, two of whom are multi-unit owners and 11 of whom came through transferred ownership. Eleven locations have opened so far in 2023, with another 15 restaurants in the works spanning from Texas, Louisiana, Alabama, Florida, Georgia and Tennessee to Indiana, Ohio, Virginia, Maryland, Pennsylvania, New Jersey and Connecticut.
"Our 'WOW!' culture is founded upon four fundamental commitments, one of which is a 'WOW' place to invest," said Kelly Roddy, CEO of WOWorks. "Our goal is to become one of the largest plant-based and good-for-you companies in the restaurant sector and one of the largest holding companies in the United States. We're very happy our newest owners have chosen to invest in us."
WOWorks franchise partners come from diverse experiences, including as multi-brand franchisees; varied business ownership backgrounds such as construction, hotels and fitness; former professional athletes; and military veterans.
"Our brands are the perfect choice for customers who want to make better life-style choices," stated Brian Farris, WOWorks' Chief Development Officer. "Our franchise owners understand the power of our brand family and are leveraging co-branding and multi-concept development to build profitable businesses with lower upfront costs, while making an impact in their communities."
Additionally, several WOWorks brands have consistently been named to notable food and franchising industry lists, including the most recent award on Fast Casual's Top 100 Movers & Shakers.
WOWorks currently has 355 locations nationwide and franchising opportunities available in 48 states (excluding Alaska and Hawaii). To learn more, visit our website and View our 2023 Growth Report here.
ABOUT WOWORKS:
WOWorks was formed in 2020 with a mission to help guests pursue their passions and live their best lives by serving healthier-for-you and flavorful meals along with its Vow to "WOW!" guest hospitality. Fully owned by Centre Lane Partners, LLC, WOWorks' portfolio, in addition to its newest brands, Barberitos Southwestern Grille and Cantina and Zoup! Eatery, consists of: Saladworks, the nation's leading fast-casual salad brand; Frutta Bowls, a unique restaurant franchise serving a variety of superfood bowls, fresh fruit smoothies, protein bites and more; Garbanzo Mediterranean Fresh, a popular Mediterranean restaurant concept; The Simple Greek, which offers a fresh and healthy take on traditional Greek recipes in a fast-casual setting. WOWorks seeks to drive explosive growth across all of its brands through a variety of channels, both traditional and non-traditional, including ghost kitchens, food trucks, grocery retail  and more.
Maggie Bates
WOWorks
+1 267-792-8693
[email protected]
Originally published at https://www.einpresswire.com/article/656000131/woworks-announces-new-franchise-partners-and-locations
The post WOWorks Announces New Franchise Partners and Locations first appeared on Floridas News.