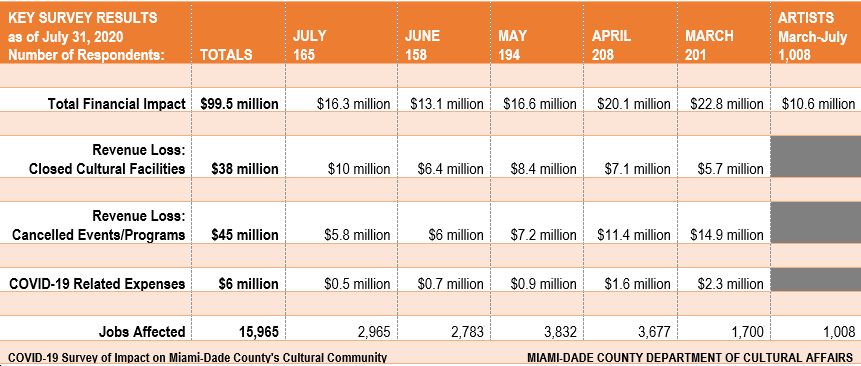 Dear Colleagues,
As we release the latest results of the monthly COVID-19 Survey of Impact on Miami-Dade County's Cultural Community, we want to remind you to apply for coronavirus relief funds through the Miami-Dade Arts Support (MAS) Grants Program before the deadline tonight, Monday, August 31, 2020.
DEADLINE: Monday, August 31, 2020
Miami-Dade Arts Support (MAS) Grants Program – Coronavirus Relief Funds
As a reminder, applications to the MAS Grants Program for cultural businesses affected by the Coronavirus (COVID-19) pandemic are now being accepted. The deadline to apply for these Coronavirus Relief Funds is tonight, Monday, August 31st at 11:59 PM. We strongly recommend that you begin the application process immediately to allow time to resolve any technical issues you might encounter. Visit the  MAS Action Center  for instructions.
JULY SURVEY RESULTS
Based on data collected through the COVID-19 Survey of Impact on Miami-Dade County's Cultural Community, the Miami-Dade County Department of Cultural Affairs estimates the total financial impact of the business interruption caused by the COVID-19 pandemic on the arts in Miami-Dade County at $99.5 million with a total of  15,965 arts and cultural jobs affected, according to aggregate data for March – July 2020.
Our latest survey results confirm that the pandemic's impact on our community, on our economy, and specifically, on our cultural life continues with devastating persistence.  We are finding hope in the creativity of our arts organizations to reinvent their work and in our collective determination to survive.  Hope also has arrived in the form of the $10 million of Coronavirus Relief Funds unanimously approved by the Miami-Dade Board of County Commissioners and Mayor Carlos Gimenez for arts relief. These critically needed resources are a lifeline to help us withstand the very impact being documented by our surveys.
TOP FINANCIAL CONCERNS
According to the survey, among cultural institutions, arts organizations and artist collectives, paying staff and artists remains the primary concern.
• 84% of respondents indicated that "Administrative and Artistic Salaries/Fees" is their top Financial Priority
• 56% of respondents indicated that "Reduced/Eliminated Earned Revenue" (including ticket sales and admission fees) is their primary income concern with 20% concerned about the loss of private sector support through a decline in individual donations, corporate sponsorships and foundation grants
• 72% of respondents are worried about the escalating COVID-19 expenses (additional maintenance, sanitizing supplies, etc.) for this year and/or next year.
Survey results have been reviewed by the Department of Cultural Affairs to ensure accuracy. The Department will continue to share the Survey data with our local, state and national arts funder colleagues, our partners and the media.
AUGUST SURVEY
The August Survey will open at the end of this month. We encourage you to continue collecting data on the revenue losses, jobs affected and additional expenses attributable to COVID-19 in the easy-to-use, self-calculating Financial Impact Tracker. Access the COVID-19 Financial Impact Assessment Tools here. Access the  COVID-19 Financial Impact Assessment Tools here.
MICHAEL, WHEN CAN WE RE-OPEN?
Due to the COVID-19 public health crisis, under Miami-Dade County Mayor Carlos Gimenez's current Executive Orders cultural activities remain closed, with the limited exception of nonprofit museums, public gardens, and limited children and youth programs, subject to strict guidelines. Please note that a 10 pm curfew remains in place county-wide; certain cities within the County may have earlier curfews.
As previously reported, other cultural venues, including theaters, currently are closed by Executive Order.  However, if and when the Executive Order is lifted, these cultural facilities and activities can re-open on a limited basis with a County-approved re-opening plan. A number of arts organizations are submitting plans to the County now just to be ready. The requirement is to submit a plan that incorporates the standards contained in the County's New Normal Guide, to have that plan approved by the County, and once authorized by Executive Order, to operate in conformance with the approved plan. Please  click here  to see page 18 of the New Normal Guide for instructions on submitting plans. The Department of Cultural Affairs will continue to support you and is available to review draft plans.
THE NEW NORMAL GUIDELINES
You can see the entire set of requirements at  www.miamidade.gov/newnormal, including the section on Arts & Culture.
Stay safe and healthy!
Michael Spring
Senior Advisor to Miami-Dade County Office of the Mayor and
Director, Miami-Dade County Department of Cultural Affairs
The most reliable way to contact us continues to be through email.  You can find a staff directory at https://www.miamidadearts.org/about/staff-councils.
To view a comprehensive list of all the previous Department updates on COVID-19 click here.


Originally published at https://miamidadearts.org/news/reminder-apply-covid-19-relief-august-31st-and-july-survey-results
The post Reminder: Apply for COVID-19 Relief by August 31st and July Survey Results first appeared on Floridas News.